7 Financial
Retirement Goals
Ever wonder what you should be looking out for as you get closer to retirement? Watch our short video about what goals retirees keep in mind to assure their financial freedom.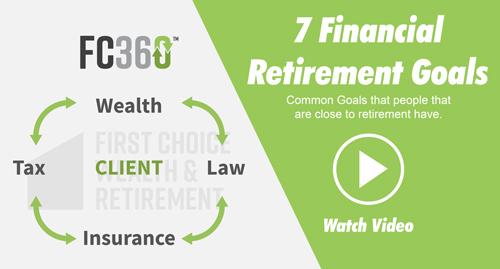 Working Together to Solve Your Financial Goals
At First Choice Wealth & Retirement, we take a holistic team-based approach to wealth management & retirement planning (through strategic partnerships) incorporating legal/estate planning, insurance and tax strategy to preserve the financial integrity of families & businesses. We help our clients by creating customized strategies to help them achieve their financial goals by planning for each of the following critical areas:
Retirement Income Planning

Tax Planning

Social Security Planning

Medicare & Long-Term Care Planning

Wealth Management & Transfer

Estate Planning & Legacy Planning
EMPLOYEE RETIREMENT PLANS (401K, PENSION)

OWNER-FOCUSED RETIREMENT PLANS (412E)

TAX PLANNING

BUSINESS ENTITY FORMATION

PARTNERSHIP/BUY & SELL AGREEMENTS

KEY PERSON PLANS
As financial professionals, we see it as our responsibility to help our clients make the strongest financial decisions for themselves and their loved ones. At First Choice Wealth & Retirement, we work hard to bring our clients financial solutions that are designed to help them achieve security and peace of mind in retirement.
Learn more about how our products can help you.
The First Choice Wealth & Retirement Three Step Process
Introductions
In our first meeting, we'll get to know each other. We will talk about what your financial objectives are, and what it is that you'd like to accomplish with your financial plan. We will also share a little bit about our financial planning strategies and what we can do to help you achieve your goals.
Building Your Plan
In our next meeting, we will begin building your plan. We will cover Social Security, Pensions, 401k's, and Medicare, as well as your lifestyle and other factors that can affect your retirement income. We will also discuss how to protect your financial future from unexpected expenses and life events.
Proactive Management
As life changes, so should your plans. We will meet with you on a regular basis to re-evaluate your financial plan and make adjustments as necessary. We will work hard to ensure that you are always on target to achieve all your financial goals and objectives.